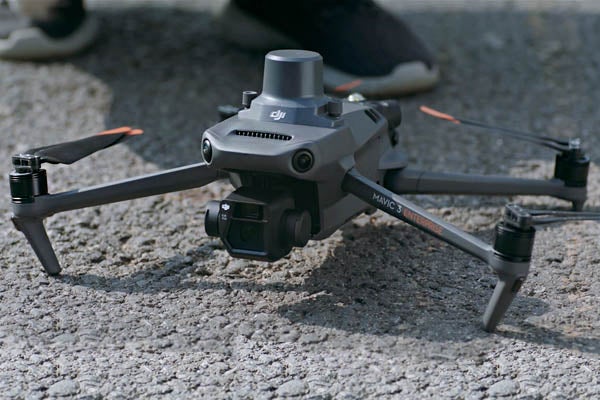 Get consistent results, quantifiable savings, and the confidence you need to map, measure, and manage your worksite using a DJI M3E drone combined with the high-precision Propeller PPK processing solution. This fully integrated system collects highly accurate worksite survey data – without the hassle and complications of traditional workflows.
Post Processing Kinematic (PPK) is not a different type of hardware, but rather a different processing workflow using an RTK-enabled drone. The difference is how the data from a base station is processed for correction and accuracy. RTK-enabled drones have a high-precision GNSS receiver which gives it the ability to track their own positions accurately in the air — a feature regular drones lack.
When using a Real-Time Kinematic (RTK) workflow, the drone relies on a passive base station to send raw GPS data to the drone and using that info and its own GPS to accurately determine its position relative to the base.
With PPK, the drone geotags each image with high-precision coordinates, provided by the on-board GPS unit. While this is happening, an AeroPoint is actively recording its positional data, which will be used as the base for the PPK processing.
After the flight is completed, those two sets of GPS data are processed to produce a precise trajectory for the drone — thanks to the photo's timestamp which allows the photo center to be determined from the trajectory. Knowing the offset after the fact lets us rewrite the initial, less-than-accurate on-board GPS data, giving precise geotags for the drone's imagery.
What's in the Box?
1 - DJI M3E Aircraft Body
1 - Remote Controller
3 - Propeller Pair
1 - DJI Mavic 3 Intelligent Flight Battery
1 – M3 Battery
1 - Battery Charger
1 - RC Pro Enterprise Power Cable
1 – Micro SD Card (installed)
1 – Hard Carrying Case
1 - USB-C Cable
1 - USB-C to USB-C Cable
1 - AeroPoint
1 - 2-Year Enterprise Basic Protection Plan
1 - Operator Manual
1 - Screwdriver
1- Access to Propeller PPK Workflow
Shipping and Setup included
About the DJI M3E
The Mavic 3 Enterprise Series redefines industry standards for small commercial drones. With a mechanical shutter, a 56x zoom camera, and an RTK module for centimeter-level precision, the Mavic 3E brings mapping and mission efficiency to new heights. The DJI is highly suitable for precision site mapping in the civil construction, aggregates, mining, and waste management industries. If you're looking to implement a drone surveying program for your earthwork's operations—or expand an existing one—with a user-friendly, affordable investment, the M3E and Propeller PPK are a great fit.
Compact and Portable
4/3 CMOS Wide Camera
56xHybrid Zoom
640x512px Camera
45-min Max Flight Time
DJI O3 Enterprise Transmission
Centimeter-level Positioning with RTK
High-Volume Loudspeaker
Key Features and Benefits:
Better in low light — The camera sensor has larger pixels, so it can take higher quality images in lower light conditions. This means pilots can fly later or earlier in the day and still obtain survey-grade images.
Faster Battery Charging — The 100-watt, fast charging setup allows you to charge batteries from 0 to 80% in 40 minutes: allowing for a 25- to 30- minute flight time.
Survey-Quality Imaging — Mavic 3E's wide-angle 4/3 CMOS, 20MP sensor has a mechanical shutter to prevent motion blur and supports rapid 0.7-second interval shooting. Complete mapping missions with extraordinary efficiency without the need for Ground Control Points.
Professional Controls — The state-of-the-art remote controller, incorporates the DJI Pilot 2 flight planning app, is larger and has a brighter screen making it easier to use, especially on sunny days.
Improved Collision Avoidance — The M3E's "omni direction positioning system" provides six crash sensors, (compared to three on the P4RTK), making the possibility of a collision less likely. You can also manually adjust the distance as needed.
Introducing DJI's New Mavic3 Enterprise Drone