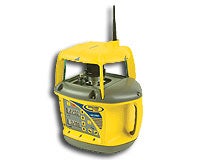 Get the right laser for the right job. Construction-tough Spectra Precision® Laser GL700 Series Grade Laser Transmitters provide years of durable, precise performance on your job site.
Choose from economical, single grade to advanced, steep grade laser transmitters. The GL700 series offers the most innovative features - Long Range Remote Control, PlaneLok, and Grade Matching - to help you get to grade faster with increased accuracy.
On site, you'll find that the advanced features quickly translate into productivity and accuracy. Complex alignments are automatic and easy to perform. The powerful, long-range remote control option mean it only takes one person to accurate set up and operate the grade laser-even grade reverse. And you control all the transmitter functions from inside the cab of a machine.
The Spectra Precision Laser GL Series offers three robust models so you can select the right laser transmitter for the right application. Each laser is easy to use for improved grading operations with increased accuracy and higher profits.
GL710 Single Grade Laser
Up to a to 3,000 foot (900 meter) diameter. With -0.5 to 25% grade range, the GL710 is a great choice for general construction, site preparation, trenching and pipe-laying applications
GL720 Dual Grade Laser
The GL720 features +/- 10% in the X axis grade range and -0.5 to +25% Y-axis grade range with high accuracy up to 3,000 foot (900 meter) diameter. The GL720 is ideal for general construction and machine control grade applications
GL722 Dual Grade Laser
With a Long-range Radio Remote and the same range and base capabilities as the GL720, the GL722 includes all the benefits of the full Radio Remote functions… plus Automatic Axis Alignment, Grade Match and PlaneLok capability. Ideal for general construction, site preparation and road construction
Features
Temperature compensation provides accurate stable results regardless of temperature changes
Long battery life and flexible power options keep the unit working throughout the day
Large displays make the numbers easy to read, even when set-up on a tall tripod
Better than 5 arc second servo deadband accuracy for demanding high accuracy requirements
Applications
General construction
Site preparation
Trenching
Road construction
Machine control