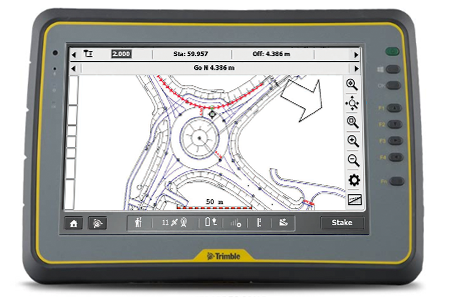 Tough, Portable, and Connected Field Computer
Now you can truly connect your office to the construction site. By incorporating a cellular modem, laptop, GPS and controller, Trimble® has improved in-field computing and eliminated the gap between office design and field implementation. The easy-to-use Trimble Site Tablet 10 allows construction professionals to make design changes in the field, connect to the office for on-the-spot approvals, and communicate changes to field crews. From the field, to the truck cab, to the office, users stay connected and work faster. With instant email access and data synchronization from the construction site, there are no more delays associated with driving data updates to and from the office and field.
The Trimble Site Tablet 10 is a new and improved tablet controller ruggedized to stand up to any construction site, in any weather. The vibrant display is powerfully illuminated, so you can finish any job fast, even in bright sunlight conditions. The long life lithium ion batteries ensure hours of field computing and Connected Site® operation.
Key Features and Benefits:
Camera records geo-tagged photographs
10.1 inch, sunlight readable display lets you read text, graphics, and complex maps under any field conditions
Corning® Gorilla® glass panel protects the display from scratching and impact long-life lithium-ion batteries are hot-swappable and ensure hours of field computing
Microsoft® Windows® 10 Professional operating system
Multi-touch screen works with stylus, fingers, or capacitive gloves
Compatible with Trimble SCS900 Site Controller software and SitePulse software
Rugged, yet lightweight, the unit weighs just 1.6 kg (3.5 lb) with standard battery; 1.8 kg (4.0 lb) with extended battery
The Trimble Site Tablet 10 is compatible with both Trimble SCS900 Site Controller software and Trimble SitePulse™ field software. When paired with SCS900, the Site Tablet 10 is ideal for construction surveying, stockpile measurements and grade verification. Alternatively, field managers can use the Site Tablet 10 with SitePulse software for planning, site navigation, and reporting tasks.
Use the Trimble Site Tablet 10 as Part of the SitePulse System
Make faster decisions, reinforced by accurate documentation
Reduce the dependency on the surveyor by performing simple positioning tasks
Access up-to-date data to support decision-making
Increase production, reduce rework, and document work quality
Improve communications between the field and office by connecting more people on the jobsite
Use the Trimble Site Tablet 10 and SCS900
Measure and verify original ground levels and site features
Monitor real-time cut/fill information
Check finished grade and laid material thickness against design elevations and tolerances
Compute progress and material stockpile volumes
Monitor and conduct quality control for earthworks and paving operations
Assess as-built measurements and generate high quality reports for record keeping, approvals, and payment purposes
Synchronize design and field data via the Internet