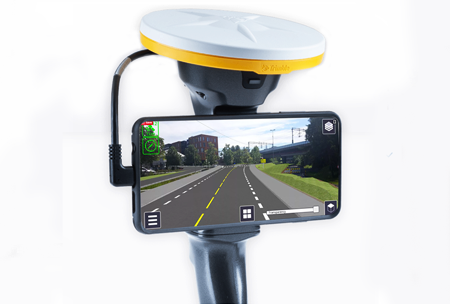 Trimble® SiteVision™ is a user-friendly multi-purpose tool that brings spatial data to life so you can easily visualize, explore and understand complex information with unrivaled accuracy, right from your mobile device.
Features and Benefits
SiteVision enables user to easily understand new designs, existing underground services, and how future landscapes will look over time. SiteVision is the ideal tool for multiple industries including: architecture, building construction, civil construction and inspection, residential development, urban transportation and planning, and utility contractors.
Place and view georeferenced 3D models from any angle at true-to-life scale—above or below the ground
Measure positions using GNSS, Electronic Distance Measurement, and Augmented Reality to better understand your data on site
Transparency slider allow you to see the environment and the design in context at different opacities
Lightweight handheld model easily travels the entire site, pole-mounted option available to accurately position and capture data
Swappable batteries for better power management and more time in the field
Integrated Electronic Distance Measurement (EDM) to take accurate measurements on the spot
Monitor satellite connectivity, accuracy, and orientation on-screen
Seamlessly integrates with your data from Trimble Business Center, SketchUp, Trimble Novapoint, AutoCAD, and more
Applications
SiteVision plays a key role in all stages of the construction life cycle and allows you to customize the blended augmented reality/real world view based on the data that is most relevant to your task.
Monitor and conduct quality control for earthworks and paving operations
Check finished grade and laid material thickness against design elevations and tolerances
Confirm designs and avoid issues by identifying the location of utilities in the context of the real world
Use sub surface mapping information to improve plans by visualizing the location, size and attributes of underground infrastructure such as water, power, gas and telecommunications
Take photos, record measurements, and make notes in the field for accurate and up-to-date reporting, create and assign tasks to team members.
---