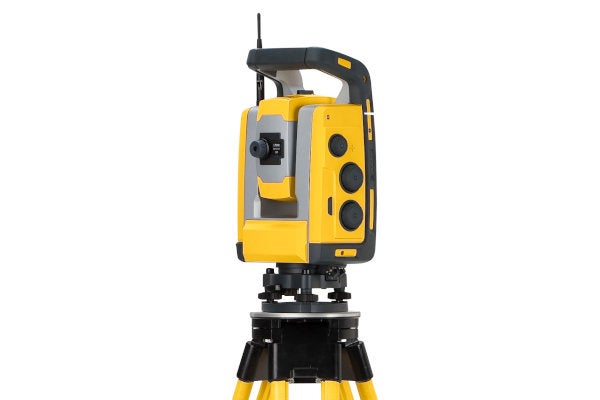 THE ALL-IN-ONE, ROBOTIC TOTAL STATION
Keep it accurate, but keep it simple. The Trimble SPS620 and SPS720 Robotic Total Stations are perfect for one-person operation on smaller site operations and work on structures such as bridges or culverts, offering very high accuracy and reliability for construction site positioning, stakeout and measurement.
Trimble Site Positioning Systems total stations are packed with market leading features such as:
Long life integrated batteries for a full day of uninterrupted work
Choice of Trimble controllers or tablets to suit your site needs
Intuitive Trimble Siteworks Site Positioning Systems Software
Well suited for use on:
Smaller construction sites or combined with GNSS on larger sites
Tasks where the accuracy requirements are tight
Measuring dangerous or inaccessible locations
No matter what job you are doing, Trimble robotic total stations will deliver unmatched user experience, all-around capability and incredible results, priced for a quick return on investment.
Key Features:
Trimble DR Plus Long-Range Reflectorless Measurement
The Trimble DR Plus™ long-range reflectorless measurement capability allows you to measure hard-to reach or unsafe places up to 2 kilometers (1.2 miles) away. There is no need to walk the surface with a target, so you'll increase productivity and safety when measuring stockpiles, or profiling cuttings and rock faces.
Internal Radio
Trimble Robotic Total Stations are equipped with an internal radio that operates in the public free 2.4 GHz band. The radio uses frequency hopping technology to reduce radio interference and maintain radio communications in even the harshest radio frequency (RF) environments.
Automatic Functions
Take accurate measurements in less time, and get real-time alerts to make adjustments. Trimble Robotic Total Stations automatically correct for mislevelments +/- 6', immediately warn the operator of any mislevelments beyond 6' and average angles during distance measurements to increase consistency, prevent costly delays and subsequent rework. When measuring in standard mode, the Trimble SPSx20 Total Station takes approximately 2 seconds to measure the distance. Angles returned to the Trimble SPSx20 Total Station at 1000Hz are averaged over the 2 second period to obtain an average angle measurement; the resultant angle measurement is an average of over 2000 observations. More accurate data captured using a faster instrument speed means increased productivity and faster results to grade.
Trimble MagDrive Technology
Trimble MagDrive™ servo technology is an electromagnetic direct drive servo system which gives high turning speeds and accuracy, the frictionless motion removes servo noise and reduces instrument wear
The system provides endless horizontal and vertical motion, including endless fine adjustment
Offers fast pointing, aiming and tracking, plus slow motion controls for manual aiming
Accuracy
The SPS620 provides 5 arc second accuracy for the vertical and horizontal angle measurements
The SPS720 provides 3 arc second accuracy in the horizontal angle and 2 arc second accuracy in the vertical, and is ideal for more accurate site positioning work
Multitrack Technology
Locks on and tracks passive prisms for control measurements, and active prism targets for dynamic measurements required for grade checking
Prevents costly delays and subsequent rework
Increased productivity and faster results to grade