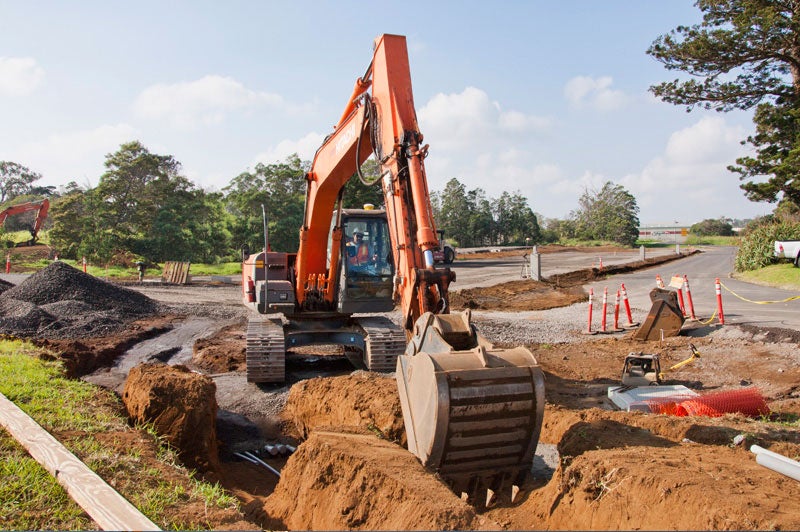 Grade Control for Excavators
Trimble GCSFlex offers contractors a reliable, flexible and affordable option to leverage machine control technology and be more competitive. The Trimble GCSFlex Grade Control System for excavators is designed to meet the needs and budgets of owner operators and small to mid-sized contractors.
Easy Installation: Install the system in a couple of hours and get up and running quickly. No welding required
Rugged and Reliable: Designed for use in the harsh construction site environment for increased reliability and maximum uptime
Low Cost of Entry: Get into machine grade at a very affordable price
Flexibility to Expand: Invest in additional sensors for increased system capabilities as your needs change
Color Graphical Display: Simple to use, featuring a full-color graphical display with large icons and menu options for easy viewing and guidance to grade
In-field Designs: Create an alignment and add a profile to create a simplified 3D design in the field using on-screen templates. You get 3D guidance without needing to build a 3D design model
Upgradeability: Think you might want to work with 3D designs and Trimble Connected Machine technology in the future? No problem... GCSFlex is now fully upgradeable to the Trimble GCS900 Grade Control System. And there's no loss of investment.
GCSFlex
GPS Guidance with Wi-Fi Base 
GPS guidance provides position and heading using an MS972 GNSS Smart Antenna and SNM940 Connected Site Gateway. GPS corrections are delivered via Wi-Fi from a SPS985 base station.
GPS Guidance with Remote Corrections 
GPS guidance provides position and heading using an MS972 GNSS Smart Antenna and satellite delivered GPS corrections. The SNM940 Connected Site® Gateway receives GPS corrections via cellular connection with a Virtual Reference Station (VRS) network or Trimble Internet Base Station Service (IBSS).
Laser Reference with Heading     
With the Laser Reference and HS410 Heading Sensor configuration, the excavator can be rotated without the need to re-enter the desired depth and slope to maintain consistent accuracy.
Laser Reference   
A rotating grade laser such as the Spectra Precision GL700 series from Trimble provides a reference plane across the jobsite.
Bench Reference     
Simply enter the desired depth and slope information into the in-cab control box. The system will provide guidance to a depth or slope based on distance from a known point or "bench" on the ground.
Trimble GCSFlex - Just Dig Better