BACKLOADRITE L2150 for Loaders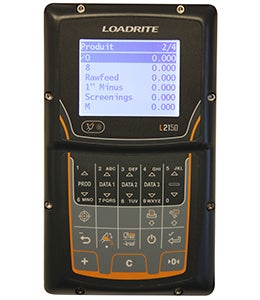 Trimble LOADRITE L2150 offers accuracy and reliability with basic data functions. By using a complex package of multiple-point triggering, speed compensation and dual pressure measurement the L2150 offers high level weighing accuracy regardless of lift speed and loader movement. All you need to know is that trucks will be loaded to the right weight first time.
Data entry and logging features of the L2150 allow you to begin monitoring the efficiency and productivity of any front end loader operation. These features provide a flexible and accessible interface ideal for basic data tracking and handling.
Key features
Accurate and consistent weighing to +/- 1% of payload
Multi-point weighing
Simple to use interface
Reporting on mobile devices or printer